Dive Lights
For questions about any of these dive lights, please contact us.
Click on a logo to view dive lights by brand
---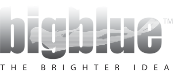 Bigblue Dive Lights entered the dive light market in 2007 introducing their first light models at the DEMA show in Orlando that year. Bigblue has continued to build upon the reputation for innovation, performance, and quality becoming the only dive light manufacturer to aggressively pursue new innovations in recreational lights, technical lighting products, and lights designed for photo and video needs.
---
While these are excellent reference materials, in no way should this information be considered a replacement for proper training for the specific type of diving in which you plan to participate.