Spare Air

Smallest, most compact redundant emergency air system available

Spare Air was patented and was shown at its first trade show in 1979. Soon after the success in the dive market, Spare Air was modified and sold to the military in 1984 under the name Helicopter Emergency Egress Device (HEED) to help helicopter personnel from almost certain death in the event of a water crash. It is now used by most military and government organizations here in the US and in most developed countries around the world. Spare Air has been used in a myriad of movies such as Jaws, Waterworld, Spy Kids 2, Baywatch, The Fugitive 2, Sphere, and Perfect Storm. Spare Air is also used at aquariums around the world.

3000 PSI Aluminum Tank in black anodized finish.

Refills from your SCUBA tank with included refill adapter

Attaches to your BC with included holster and safety leash

Small, hands-free, nearly neutrally buoyant

Breathe on demand regulator -No complicated instructions

Completely redundant back-up miniature SCUBA system

Faster than buddy breathing and easier than an octopus

An optional Dial Gauge Pressure Indicator is available

Pressure Indicator - The standard indicator is easy to read by the White Indicator Pin rising up when the Spare Air has filled to 3000psi.

Filled Position

Low Air Position
---

3.0 cu ft

SPARE AIR IS NOW ALL BLACK!
They have updated the cylinder finish to black anodized which not only looks great year after year, it also offers great protection from corrosion with no peeling or chipping.

Spare Air model 300 Specifications

Maximum Capacity
3.0 cu ft / 85 liters
Length
13.4" / 34 cm
Diameter
2.25" / 5.71 cm
Maximum Pressure
3000 psi / 200 bar
Weight (full)
2.17 lb. / .985 kg
Surface Breaths*
57 (
Water Volume
26.62 cu in / .42 liters

Spare Air Model: 300PK

Price: $289.99

---

Accessories
Optional Dial Gauge Pressure Indicator
The most popular add-on feature shows the exact amount of air in increments of 200 psi. You can order your Spare Air with the Dial Gauge already installed or you can simply install one in any Spare Air. (Standard feature on Heed 3)

Price: $59.00

Scuba Tank Refill Adapter: The Spare Air can be filled anywhere using a filled standard SCUBA tank by attaching the optional Yoke Adapter
Price: $70.00
Fill Station Refill Adapter: This adapter is used to refill the Spare Air directly from an air compressor capable of filling to 3000 psi.
Price: $39.00
Safety Leash: The Spare Air safety leash prevents accidental loss and allows for quick retrieval if you drop your Spare Air. Quickly attaches or detaches for added safety.
Price: $17.00

Spare Air Travel Pack Includes plastic protective caps for both the regulator and cylinder threads and additional o-rings all in a durable, reusable plastic pouch. TSA regulations

Price: $17.00

Holster for 3.0 cu.ft. units: In just seconds, you can mount Spare Air anywhere you have 2 munting points so that your Spare Air is close at hand - yet out of the way. The Covered Holster makes mounting Spare Air quick and easy.
Price: $40.00
Check Valve Cap screws onto the Check Valve to protect the Spare Air when diving or storing. Check Valve Cap can be quickly unscrewed for filling your Spare Air unit by compressor or from a filled SCUBA tank.
Price: $6.50

---
WARNING: Do not use SPARE AIR until you have read and understand instructions and precautions.
SPARE AIR is an EMERGENCY alternate air source. It is NOT designed or intended for any other use.
---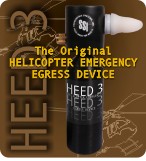 The Helicopter Emergency Egress Device III (HEED 3) manufactured by Submersible Systems, Inc. is an updated version of the original HEED. A compact, lightweight and reliable self contained breathing apparatus, the HEED 3 is designed to increase the survivability of military and commercial personnel in short-term out-of-air emergencies.

Based upon the popular Spare Air ® used for SCUBA Diving, the HEED 3 utilizes the same 3rd generation patented regulator that has made the Spare Air the most sold SCUBA Safety breathing device in the world. HEED 3's proven design is the preferred choice.

Mounting the HEED 3 on your person is a great solution to keep the unit within reach. The holster included with every unit is designed to attach to any MOLLE Type vest.
Provides lifesaving air needed to egress from a downed aircraft or a rolled vehicle in the water

Ideal for helicopters, fixed wing aircraft, float planes, watercraft & vehicles operating around possible water emergencies

Protects personnel from inhaling dangerous and lethal toxic fumes from fire or smoke.

The HEED 3 is also known as the SEED (Supplementary Emergency Escape Device), the STASS (Short Term Air Supply System), Spare Air ® (The SCUBA recreational dive version) and Xtreme Sport

Over 250,000 units sold worldwide since 1979

Under 9" tall, the HEED 3 is the smallest emergency breathing device on the market

HEED 3 is more than 1 lb lighter and over $100 less than competitors models

Simple, compact design is easy to use, repair, and maintain

Always-on design is ready to deliver air when you need it

Refillable from an air compressor or SCUBA tank using optional adapters (order separately below)

Over 25 years of service to the military, tested and approved by the US Navy

Includes custom holster to attach to a modular-type vest, ideal for Switlik Modular Aircrew Vest

Comes with Deluxe Dial Gauge Pressure Indicator, Mouthpiece cover, and lanyard
Special Order. Please allow additional lead time.
---

Heed 3 model 175-001 Specifications
Maximum Capacity
1.7 cu ft / 48 liters
Length
8.75" /22.23 cm
Diameter
2.25" / 5.71 cm
Maximum Pressure
3000 psi / 200 bar
Weight (full)
1.51 lb / .687 kg
Cylinder Material
Aluminum - Black Anodized
Pressure Relief
Integrated in regulator
Regulator Type
Balanced Single Stage
Operational Temperature
-22°F [-30°C], +158°F [+70°C]
Surface Breaths*
30 (*Based on 1.6 liters per breath)
Altitude Limits
Tested at up to 35,000 feet (10,500 meters)

Heed 3: 175-001

Price: $320.00

---

HEED III Scuba Tank Refill Adapter: The Heed 3 can be filled anywhere using a filled standard SCUBA tank by attaching the optional Yoke Adapter

Price: $70.00

---

HEED III Fill Station Refill Adapter: This adapter is used to refill the HEED directly from an air compressor capable of filling to 3000 psi.

Price: $39.00
---
Related Items
While these are excellent reference materials, in no way should this information be considered a replacement for proper training for the specific type of activity in which you plan to participate.