Authorized Online Dealer


CAGE Code: 3PHY4
Aqua Lung Equipment Packages
Scuba Center is an authorized Aqua Lung Dealer.
This is your assurance that your equipment will come with the full manufacturer's warranty.

Aqua Lung is the name that first introduced the world to Scuba diving more than 60 years ago when Jacques-Yves Cousteau and Emille Gagnan developed the first "Aqua-Lung". The excitement and adventurous spirit of that first dive continues today and is reflected in Aqua Lung's dedication to quality and innovation.
The full line of Aqua Lung equipment is available from Scuba Center.
For questions about any of these models, please contact us.
---
Aqua Lung Essential Package

Aqua Lung Essential package Includes:

Shown with optional knife (not included)

Pro HD BC

Titan regulator

ABS octopus

i300 2 gauge console

Sorry, no product substitutions with this package discount.

Size & Buoyancy Chart: Click Here

Price: $1413.00

Special Package Price: $969.00
---
Aqua Lung Women's Package

Aqua Lung Women's Package Includes:

Shown with optional knife (not included)

Pearl BC

Titan regulator

ABS octopus

i300 2 gauge console

Sorry, no product substitutions with this package discount.

Size & Buoyancy Chart: Click Here

Price: $1493.00

Special Package Price: $999.00
---

Pearl BC:

The Pearl is a mid-level women's BC that combines the superior fit, comfort and cosmetic of the pioneering Pearl i3, with the traditional operation of the Diva series. For real women who come in all shapes and sizes, the Pearl offers an adjustable waistband and a wide adjusting shoulder strap that allows them to fine-tune the fit to their body. It incorporates a plush back lining and Aqua Lung's customary sports bra for added comfort and stability. The Pearl features the patented and innovative SureLock™II mechanical weight release system. The SureLock™II is even easier to load than its predecessor and remains secure until you want to release it.
---

Pro HD BC:

The Pro HD is a wrap-around jacket with weight integration that is sure to appeal to a wide range of divers. It provides excellent value because it is so feature-rich for the price. Due to its advanced ResisteK™ material, it will hold up to the rigors of salt and chlorine and retain its good looks. Wherever you want to take it, it's ready to go.
Color: Black / Charcoal / Blue
---

Titan regulator: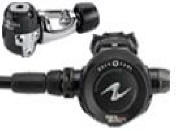 The Titan incorporates the best features from the first two generations plus sprinkles in some Aqua Lung know how. The result is a comfortable, light-weight, easy-breathing regulator that is filled with innovation. From the consumer that wants performance at an affordable price to the dive center that wants ease of maintenance, the Titan delivers. Uses a balanced-diaphragm mechanism. This results in ease-of-breathing and consistent performance while environmentally protecting the internal parts. New, mid-size, high performance, demand valve second stage. Easy-to-grip venturi knob stops unwanted freeflow when the regulator is out of your mouth.
---

ABS octopus:

The ABS Octopus combines excellent breathing performance with the benefits of a low profile body style. Exceeds CE breathing requirements for regulators. Versatile design allows proper function when right side up or upside down. Unique 120° angle between hose and mouthpiece: This Aqua Lung innovation is ideal for giving your octopus to a buddy - will work in either right hand or left hand positions. No more sharp bends in the hose or upside down octopuses in the mouth. Custom quick-release mounting clip keeps the ABS properly located on the body at all times.
---

i300 2 gauge console:

Its effortless approach and versatility give you the ability to dive right in. It exceeds expectations—with many features such as its easy-to-use interface, flexible operating modes, built-in backlight and user-changeable battery with data retention. The i300 carries all of these features with a ruggedness that you can count on. And with effortless design, such as a water-activated on switch, it gets you right in the water and descending to your next adventure.
---
Related Items
While these are excellent reference materials, in no way should this information be considered a replacement for proper training for the specific type of diving in which you plan to participate.