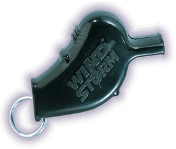 Wind Storm Whistle
Incredibly loud safety whistle, totally waterproof and can be heard underwater!
This whistle performs in all conditions, in any weather or safety situation: blown and heard on land, up to 1/2 mile, and even underwater, up to 50 feet. A high-impact, non-corroding thermoplastic protective housing is easy to grasp, and the patented double chamber design allows it to be blown when held right side up or upside down, forcing all water to be purged when the whistle is blown.
Exceeds Coast Guard and SOLAS requirements.
Assorted Colors.