Professional Grade Equipment for Public Safety Dive and Rescue Teams

Aqua Lung diving equipment has been used for many years by Public Safety dive and rescue teams worldwide and has a reputation for reliability, performance and durability. Core breathing system products such as Apeks regulators provide field-proven capability and performance for SCUBA and surface-supplied diving operations in all environments. Key dive accessories, including fins, diver knives, masks and snorkels, have become benchmark products for the professional diver and the Aqua Lung group continues to develop equipment designed to meet the needs of the Public Safety market.
Distribution of Aqua Lung Public Safety Equipment is limited to Public Safety Teams and related professionals.
For recreational sales (and a wide range of other equipment), consult our online dive store.
Please contact our Public Safety Sales Dept. for questions and/or competitive bid pricing.
| | | |
| --- | --- | --- |
| PH: (651) 681-8434 | Fax: (651) 681-8433 | |
---

How it works:
First Layer (DryCORE) is a loose fit shell dry suit incorporating latex seals, dry zipper, air intake and exhaust valves to create the waterproof barrier. Second layer "over suit" made with a durable stretch fabrics is attached to the DryCORE at the wrists, ankles and dry zipper to form the streamline form fit of the inner dry suit.
DryCORE
Dry Core internal bladder made with tough, proven military 200 denier BiLam material. Attached dry socks for easy entry and increased comfort. This is the layer that keeps you dry!

Aqua Lung SAR Skin
Building on the successful Fusion Tactical for the military, the Aqua Lung SAR Fusion is loaded with the most innovative, durable construction techniques available to provide Public Safety Teams the mobile and streamlined drysuit on the market. All seams designed with hyper stretch reinforcement tape, constructed with 6 thread multi needle stitching for their strongest seams ever. High stretch, abrasion resistant Gatortech neoprene on the knees, elbows, shoulders and buttocks to extend the life of the skin for use in the most extreme dive conditions. The SAR Skin attaches and removes easily from the Dry Core by Velcro fasteners at the wrists, ankles and zippers. Available in Dive and Surface Rescue Swimmer versions.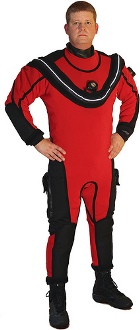 Aqua Lung SAR Fusion Features:
Available in Dive and Surface Rescue Swimmer versions.

Front entry design for easy donning.

Rotating inlet and exhaust valves (Dive version)

Heavy duty drysuit zipper

Exterior skin is made of 1mm super stretch neoprene and reinforced in high wear areas.

Unmatched flexibility & streamlined design

Pockets Available

Available with S.A.R. or Rescue armbands (Included at no additional charge)

Extra-thick cone-shaped latex seals

Attached dry socks

Suspenders

Bag, low pressure hose (dive) and zip wax included

Sizes Available: 2XS/XS, S/M, L/XL, 2XL/3XL, 4XL+

Boots not included (order separately or add as accessory)
---

EVO4 Boots available in sizes: 7, 8, 9, 10, 11, 12, 13, 14/15

Heavy duty dual layered sole with multi-directional traction lugs.

Reinforced padded ankle support.

Drainage ports.

Heel pull tab.

Reinforced toe and heel.

Order EVO4 boots 1 full size larger than your foot size

Fusion Boots available in sizes: 5/6, 7, 8, 9, 10, 11, 12, 13/14

Low profile to fit standard fin pockets.

Form fit reduces excess air in boots resulting in superior buoyancy control.

High mobility design results in less fatigue while diving.

Streamlined design offers less drag reducing you energy output.

Fast and easy entry and exit.

Boot sizes can easily be changed.

---

Aqua Lung Seal Lock Technology (SLT) option:
You are ready for the dive and suddenly... a torn neck seal or worn out wrist seal. The choice: an uncomfortable (wet) dive or, cancel the dive until repairs can be made. With Aqua Lung Seal Lock Technology the fix is simple. Seal-Lock Technology (SLT), is a modular seal replacement system that incorporates a neck ring retainer and compression fit wrist seals. Simple, innovative, and convenient, SLT enables quick and easy change out of worn or torn seals in the field and best of all, anyone can do it.

SLT features all new silicone neck and wrist seals and is a must-have option on any Aqua Lung SAR Fusion MTO dry suit.

SLT systems now ship standard with oval wrist rings. "Round version" available by request.

---

SAR Fusion MTO Drysuit
Includes:
Options / Accessories:

---

"How long will it take to make my Aqua Lung SAR Fusion?"

Made to Order (MTO) drysuits are those drysuits that are a stock size with custom options.
Aqua Lung MTO Fusion drysuits require 30 days production time + shipping time.

---

Related Items

---
While these are excellent reference materials, in no way should this information be considered a replacement for proper training for the specific type of diving in which you plan to participate.