Scuba Center Eagan


1571 Century Point




Eagan, Minnesota 55121




(651) 681-8434

Scuba Center Minneapolis


5015 Penn Ave South




Minneapolis, Minnesota 55419




(612) 925-4818

---

As many frequent visitors to scubacenter.com know, we continually update our site to better serve you. Many of these changes begin with questions or suggestions from our customers.

Check back often to see what has changed.

What's New

---

** COVID-19 -- Store Hours / News -- Updated May 23, 2020. **

Both Scuba Center locations are OPEN!

MN Gov. Walz has announced that customer-facing retail businesses can resume modified / limited capacity operations. Hours are initially limited to allow for staffing and enhanced cleaning considerations. This may change week-to-week as necessary.
Store Hours / Contactless Curbside Pickup Hours
** We require that all Customers and Staff wear a mask / face covering and practice appropriate social distancing. **
We are still not allowed to open our pool or resume classes / pool sessions at this time.
We will continue to offer Contactless Curbside Pickup for customers who prefer this option.
How does Scuba Center Contactless Curbside Pickup work?

At this time, all orders must be paid via credit card to help promote a contactless experience.
Call the location you have selected to let us know you have arrived: Eagan: (651) 681-8434 Minneapolis: (612) 925-4818
Our staff member will ask for your order information and vehicle description. We'll then walk the order outside for you, while practicing appropriate social distancing.
If dropping off equipment for service or tanks for fills, we will provide instructions upon your arrival.

At Scuba Center, we care deeply about the customers we serve. We believe that by working together we can all make a difference as the COVID-19 situation continues to rapidly evolve. Please monitor our web site and Facebook page for updates.

Thank you for all of the expressions of support we've received. It is the thing that keeps a small business going.

---


---
** PADI eLearning SALE - Save 25% **
Now, for a limited time all PADI eLearning classes are on sale for 25% off the regular price. So, if you finally want to get that Nitrox Certification for yourself, or you want to start your family on the path to Scuba Certification, make that time at home a little more interesting and sign up now.
We've had a number of parents add this to their students at home curriculum.

Check out the specials

Offer extended through May 31, 2020!
---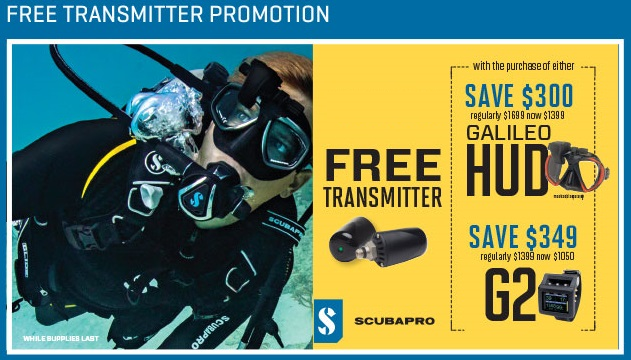 SCUBAPRO "FREE TRANSMITTER" PROMOTION DETAILS:
Purchase either an air-integrated Galileo HUD (regularly $1699, now $1399) - save $300, or an air-integrated G2 wrist (regularly $1399, now $1050) - save $349, and receive a free transmitter.
Available at both Scuba Center locations while supplies last.
---
Class dates | updated May 19, 2020
Dive Travel | updated Mar 20, 2020
Red Sea: June 4-20, 2020
Pacific Northwest: Sep 4-13, 2020
Provo (Turks and Caicos): Feb 20-27, 2021
Little Cayman: Mar 6-13, 2021
Fiji: Oct 31-Nov 12, 2021
Online Dive Store | updated May 15, 2020
Water Rescue Equipment | updated May 8, 2020