Scuba Center Eagan


1571 Century Point




Eagan, Minnesota 55121




(651) 681-8434

Scuba Center Minneapolis


5015 Penn Ave South




Minneapolis, Minnesota 55419




(612) 925-4818

---

As many frequent visitors to scubacenter.com know, we continually update our site to better serve you. Many of these changes begin with questions or suggestions from our customers.

Check back often to see what has changed.

What's New

---

** COVID-19 News -- Updated June 28, 2020. **

Both Scuba Center locations are OPEN and classes have resumed!
** We require that all Customers and Staff wear a mask / face covering and practice appropriate social distancing. **
We will continue to offer Contactless Curbside Pickup for customers who prefer this option.
How does Scuba Center Contactless Curbside Pickup work?

Call the location you have selected to let us know you have arrived: Eagan: (651) 681-8434 Minneapolis: (612) 925-4818
Our staff member will ask for your order information and vehicle description. We'll then walk the order outside for you, while practicing appropriate social distancing.

At Scuba Center, we care deeply about the customers we serve. Please monitor our web site and Facebook page for updates.

Thank you for all of the expressions of support we've received. It is the thing that keeps a small business going.

---

COVID-19 Warning: An inherent risk of exposure to COVID-19 exists in any public place where people are present. COVID-19 is an extremely contagious disease that can lead to severe illness and death. By visiting Scuba Center (shopping, attending classes, etc), you voluntarily assume all risks related to exposure to COVID-19.

---
Special Notice -- 6351 T6 Aluminum Alloy Cylinders:
Effective immediately (June 17, 2020) Scuba Center will no longer fill any Aluminum Cylinder made from 6351 T6 Aluminum Alloy. These cylinders have exhibited a history of SCL (Sustained Load Cracking) and / or rupturing. While these cylinders have not been recalled, this decision was made with the safety of our staff and customers as the utmost priority.
PSI, Inc. (Professional Scuba Inspectors) states:
"Sustained load cracking (SLC), a metallurgical anomaly, occasionally develops in 6351 aluminum alloy high-pressure cylinders. As the name implies, SLC usually occurs in cylinders that remained filled for long periods of time. US manufacturers that used 6351 alloy included Luxfer Gas Cylinders (made prior to May 31, 1988), Walter Kidde, Cliff Impact, Norris Industries (SP6688) and Kaiser (SP6576). The permits for both Norris and Kaiser have expired and those cylinders are no longer approved for use in the US. Luxfer stopped using 6351 alloy by mid 1988 and now provides a complete listing on its web site of dates when various cylinder models were changed to a proprietary 6061 alloy. Catalina Cylinders began making aluminum cylinders in 1986 using a 6061 alloy that is NOT susceptible to SLC."
The following is a list of cylinders made of 6351 Alloy that will no longer be filled by Scuba Center:
All Luxfer Cylinders Manufactured Prior to June 1988.
All aluminum tanks under Special Permit # 6498, 922, 7042, 8107, 8364, 8422.
All Walter Kidde 3AL Cylinders.
All Cliff Impact Cylinders.
Thank you for understanding this important safety decision.
---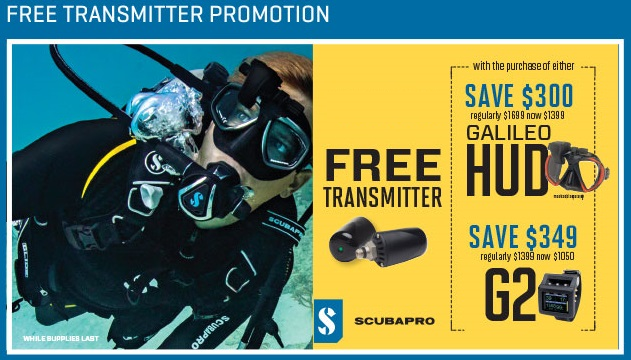 SCUBAPRO "FREE TRANSMITTER" PROMOTION DETAILS:
Purchase either an air-integrated Galileo HUD (regularly $1699, now $1399) - save $300, or an air-integrated G2 wrist (regularly $1399, now $1050) - save $349, and receive a free transmitter.
Available at both Scuba Center locations while supplies last.
---


Scuba Center is thrilled to announce the launch of a new Shearwater® dive computer; welcome the PEREGRINE™.
An easy to use, full-color robust computer which brings affordable quality to divers everywhere, the PEREGRINE offers exceptional value and performance at $450.

The bright, easy to read color screen with simplified operation makes it a clear choice for the diver starting their adventure but with room to grow. With four diving modes, Air, Nitrox, 3 Gas Nitrox and Gauge the PEREGRINE stands apart as an entry-level dive computer.

Best suited for Air and Nitrox divers but with the no lockout full decompression support you expect from Shearwater. Wireless charging and Bluetooth support offer the convenient connectivity expected.

Each unit comes standard with a black silicone strap & shock cord. Accessory straps in White or Ocean Blue are available to provide customization.

Full Color. High Resolution. Easy-to-read display (2.2" LED LCD display with vivid, enhanced color range and saturation).
Simplified diving modes and full decompression support (Uses Bühlmann ZHL-16C with gradient factors. Shearwater dive computers never lockout for dive plan deviations).

Air (Simple air mode for everyday diving)
Nitrox (Up to 40%)
3 Gas Nitrox (Up to 100% O2)
Gauge

Intuitive dive planner
Two Button Interface (Simple to navigate, state-aware menu structure. 316 stainless steel buttons.).
Wireless Charging (Battery life per charge is up to about 30 hours on medium brightness level. USBwireless charging station is included.)
Wireless Data Transfer Smart Technology (Enables you to upload dive logs using wireless data transfer smart technology to Shearwater Cloud and free firmware updates).
User Customizable Display
Multiple Languages Supported
Optional color wrist straps available from Shearwater
Click for Full Details
---


Technical Bulletin 07012020

Subject: High-Pressure Gauges sold between 2012 and 2018

Where used:
Sold as a stand-alone product, p/n GB01
Standard Fill Checker, p/n AC360
Deluxe Fill Checker, p/n AC365
Deluxe Cylinder Equalizer, p/n AC366
How to Identify: The GB01 HP gauges in question have a black face card with an outer white scale in psi, and an inner blue scale in bar They are filled with a clear oil. They have ¼" NPT threads (Fig. 1).
The Problem: In the rare event of an internal leak, the black over-pressure (OP) relief plug (Fig. 2), located on top, should vent, allowing excess pressure to escape. It does not in all cases. XS Scuba is finding that as these over-pressure plugs age; they are becoming harder. While originally supple and pliable, some that have been in the field for many years have become hard. In some cases, they found that the plug had become too hard to properly relieve excess pressure should there be an internal leak. This can result in the glass lens shattering outward.
Click for Full Details
For more info or questions email: Info@XSscuba.com
---
Technical Bulletin 06012020

In the last few years, the dive media, as well as the Dive Alert Network (DAN), has shined a spotlight on a potentially hazardous situation where nylon regulator hose interiors can crystalize, resulting in the possibility of crystals dislodging and creating an obstruction in the regulator. Miflex, the largest producer of nylon braided hoses in the world, and XS Scuba, their North American distributor, want to provide details on this situation to put minds at ease.

Click for Full Details
For more info or questions email: Service@XSscuba.com
---
Class dates | updated July 16, 2020
Dive Travel | updated July 11, 2020
Provo (Turks and Caicos): Feb 20-27, 2021
Little Cayman: Mar 6-13, 2021
Red Sea: June 3-20, 2021
Fiji: Oct 31-Nov 12, 2021
Pacific Northwest: Postponed
Online Dive Store | updated July 31, 2020
Water Rescue Equipment | updated July 24, 2020