Scuba Center Eagan


1571 Century Point




Eagan, Minnesota 55121




(651) 681-8434

Scuba Center Minneapolis


5015 Penn Ave South




Minneapolis, Minnesota 55419




(612) 925-4818

---

A replacement certification card may be necessary under the following circumstances: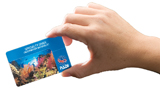 You've changed your name (include a copy of legal documentation of name change).*
You are upgrading from any PADI Junior Diver certification.
You would like to replace your existing card with a Project AWARE Edition Certification Card.
Your PADI Diver certification card was lost.
Your PADI Diver certification card was damaged.
*Name changes must be completed directly with PADI. Supporting documentation will be required.
See option 3 below for details.

When replacing your PADI C-card you have the option of receiving the standard card or a special Project Aware version (available by making a minimum $5 donation to Project Aware). Card designs change each year. All proceeds go to the Project AWARE Foundation, a non-profit organization dedicated to protecting the underwater environment. To learn more about Project Aware and other environmental organizations, visit our Environmental Awareness section.
To replace your PADI certification card, we can offer you a few options:
---

1. We can make the arrangements for you at Scuba Center. Here is how this option works. Stop by either Scuba Center location to have us replace your PADI credentials instantly. We will take your photo with our digital camera and process your request for you. You will receive an email confirmation of the documentation shortly after we process it. The new plastic card will be mailed to you (from PADI) in a few weeks.

---

2. If you have a digital photograph of yourself and a credit card, you can replace your PADI certification card on-line. Simply follow the instructions provided when you reach this section of their site.

---

3. Download the PADI Certification Card Replacement Form PDF. Complete the form and enclose a passport size, 1 3/4" X 2 1/4" photo, along with a $46.00 processing fee (additional fee for priority processing). If you have had a recent name change, please provide copies of any name change documents. (e.g. marriage license, court documents, etc.). Send the request to:
PADI
Research Department
30151 Tomas Street
Rancho Santa Margarita, CA 92688
---

Contact Info. for other Certification Agencies

While PADI does the vast majority of certifications world wide, it is possible you were certified by another agency.
Use the contact information below to arrange for a replacement card from the following agencies: