Continue to develop your dive skills and experience even more of the underwater world.

PADI eLearning is internet based (online) course work that you can access from anywhere via the world wide web. With PADI eLearning, you can sign-up and complete the knowledge-based dive training from the convenience of your home, office or on the road, 24 hours a day, seven days a week. However, during the course, you can access the support of a PADI Professional at Scuba Center by email or phone to get guidance and help about the topic you are studying.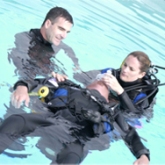 What does it cover?
PADI Rescue Diver Course Online content is broken down into 5 easy-to-learn sections after an introduction. The course covers a wide range of topics including, The Psychology of Rescue, Recognizing Diver Stress, Accident Management, Assisting Responsive and Unresponsive Divers at the Surface and Underwater, Equipment Problems, Oxygen Delivery Systems, Missing Diver Procedures, Responding to Diver Emergencies and Inwater Rescue Breathing. As with the PADI Advanced Open Water Diver eLearning course, the entire PADI Rescue Diver manual will be available online to divers enrolled in the course. Discover your inner hero and be one step closer to Master Scuba Diver – the ultimate non-professional certification in recreational diving.
How does it work?
After enrolling, PADI's eLearning system presents you with interactive presentations that include videos, audio, graphics and reading. Short quizzes let you gauge your progress, and review and correct anything you might happen to miss. This lets you move through the program efficiently and at your own pace.
What is the minimum amount of time it will take to complete this eLearning program?
The PADI Open Water Diver Course online will take approximately 10-12 hours to complete.
What does it cost?
The PADI Rescue Diver Course online is $184 US nonrefundable. The fee covers the knowledge development training as well as unlimited access to the entire PADI Rescue Diver manual online.
Fee for completing the Certification Dives with Scuba Center is $149.00 and includes: training fees and certification processing. Scuba equipment is not included, but may be rented at Scuba Center. Gloves appropriate for local water temperatures and strap fins with boots are required for early season courses, but are not available for rental.
Convenient online access to knowledge development course material for one year
Unlimited and unrestricted access to an online version of the PADI Rescue Diver Manual
At your own pace complete PADI knowledge assessments
Visit or contact us anytime during business hours
Payment is $184 US (nonrefundable) for eLearning via a secure online payment system. There are additional charges for the certification dives and any required rental equipment.

Minimum Age for this Course: 12 years old